This Post Has 8,403 Views. Spread The Vibe, Share This Post Below: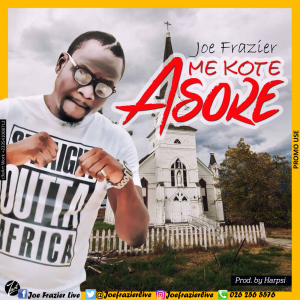 Joe Frazier takes Afropop to Another Level in this his first release song in 2018 New Song titled Me Kote Asore.
Andrews Agyen known as Joe Frazier, a Ghanaian Hiplife and Hip Pop Artist, who has been very consistent with the release of Good songs like 'Shee Shee, Yaa Maame, Adofo Yeshiasia, Atanfo, and many more erupts again with this new tune titled Me Kote Asore.
Me Kote Asore produced by Harpsi is a fante statement literally meaning, Am Going To Form A Church tells you how some people turn to be Pastors/Prophets in our Era.You need to Listen to the Song. Get your copy of this smashing single below
Joe Frazier – Me Kote Asore (Prod. By Harpsi) [DOWNLOAD]